#AMCSqueeze, #AMC100K and #AMCtothemoon were some of the trending hashtags on Twitter as investors look to push AMC into a short squeeze.
The squeeze potential does offer investors the chance to make quick fortunes but does not fundamentally improve nor change the underlying business.
AMC has struggled during the pandemic and remains burdened with a high debt load which likely will cause quite some issues down the road.
If a squeeze drives the price higher, AMC is likely to sell the remaining 31 million shares authorized to secure a higher price per share and add more cash.
Future notes/loans should be at high double-digit interest rates, and the inability to pay these and repay non-convertible notes raises bankruptcy probability.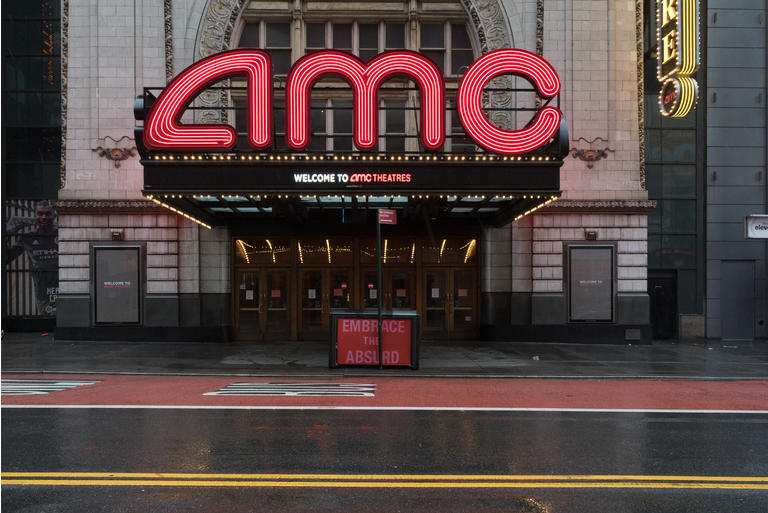 #AMCSqueeze, #AMC100K and #AMCtothemoon were some of the trending hashtags on Twitter going in to the open on Tuesday as AMC Entertainment (AMC) rose for its eighth straight day. While the prospects of a short squeeze fueled in part by Reddit have been a major factor in the rally, the long-term outlook of AMC remains poor.
AMC's Short Squeeze
Retail investors look to be preparing themselves for a second short squeeze much like the one that unfolded with GameStop (GME) in January, which also boiled over to AMC, taking it to its 52-week high above $20. It's estimated that shorts have lost nearly $1 billion combined in the two stocks during the past five trading days, with more covering needed as AMC has rallied towards $15.
Options trading and premiums are rising on a flatter day as IV climbs on the backs of such a prospect, with calls expiring May 21 (Friday) all increasing in value, and premiums for the monthly June 18 expiration up a high degree; high volume (20k) in the May 28 $28 call, implying a 100% move, and the June 18 $40 call, implying a nearly 300% move, solidify retail's high faith in the short squeeze.
AMC has started to see a decrease in its high short interest over the past three days after shares jumped above $12. Cost to borrow has fallen, with Tuesday's average at 12.34% and the max at 31.59%, while the surge in volume has led to a decrease in the DTC ratio for outstanding short positions to 2. ORTEX estimates that nearly 8 million shares have been returned/covered on Tuesday.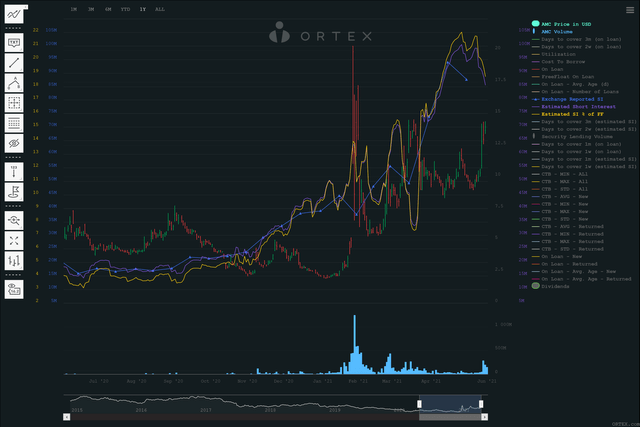 Graphic from ORTEX
While there is potential for AMC to emulate a GameStop-esque squeeze with the current setup, the high volume creating a low DTC ratio could make the scenario happen quickly; this could lead to two things. Short covering might not have happened, and a 'truer' squeeze could still occur, as options IV looks to be expecting, or, in the case of a multi-day 'squeeze' or run (much like GameStop), shorts could find it easier to cover, thus shares could enter in a mania-like state with investors buying at extremely elevated levels in hopes of selling those shares at a higher price to others willing to buy to do the same, with little of the intended effect against the hedge funds and a higher potential for a rug-pull 'flash crash'.
The Fundamentals of the Business Remain Poor, Even with Some Signs of a Recovery
The short squeeze potential does offer investors the chance to make fortunes in a rapid amount of time, but the thing is, a short squeeze does not fundamentally improve nor change the underlying business. AMC has struggled during the pandemic and remains burdened with a high debt load which likely will cause quite some issues down the road. There are some signs of a recovery as vaccinations continue, allowing capacities to increase, but the revenue recovery picture is too prolonged.
AMC's 13 theaters in NYC were finally reopened in early March after the state paved the way for reopening under the premises of 25% capacity or max 50 people per screen, later increased to the lesser of either 33% or 100 guests per screen. Attendance domestically remains down over 80% due in part to these restrictions (internationally over 97%), and higher vaccination rates and further reopening and lightening of capacity restrictions does pave the way for attendance growth. AMC is operating practically all of its domestic theaters at capacities ranging from 15% to 60%, so there remains more room for attendance figures to grow.
The company sees that it is "looking at an increasingly favorable environment for movie-going" as these restrictions lighten alongside "the arrival of long awaited new movie title releases." Godzilla vs. Kong's strong box office performance points to pent-up demand for movie attendance and matinee showings, with more titles expected later in the year.
Signs of pent-up demand and easing restrictions give a positive timeline for revenues to continue their recovery, as the prior two quarters' revenue amounts were near one-tenth of pre-pandemic levels. However, broader industry trends point to box office stagnation in the face of streaming content wars. Box office ticket sales, shown in the first graph below, have been on a downward trend since 2002, while box office revenues in North America, show in the second graph below, have grown at a slow pace and have actually declined since 2002 on an inflation-adjusted basis.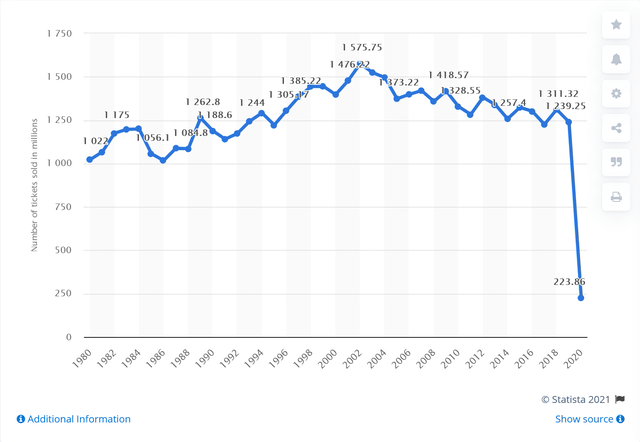 Graphic from Statista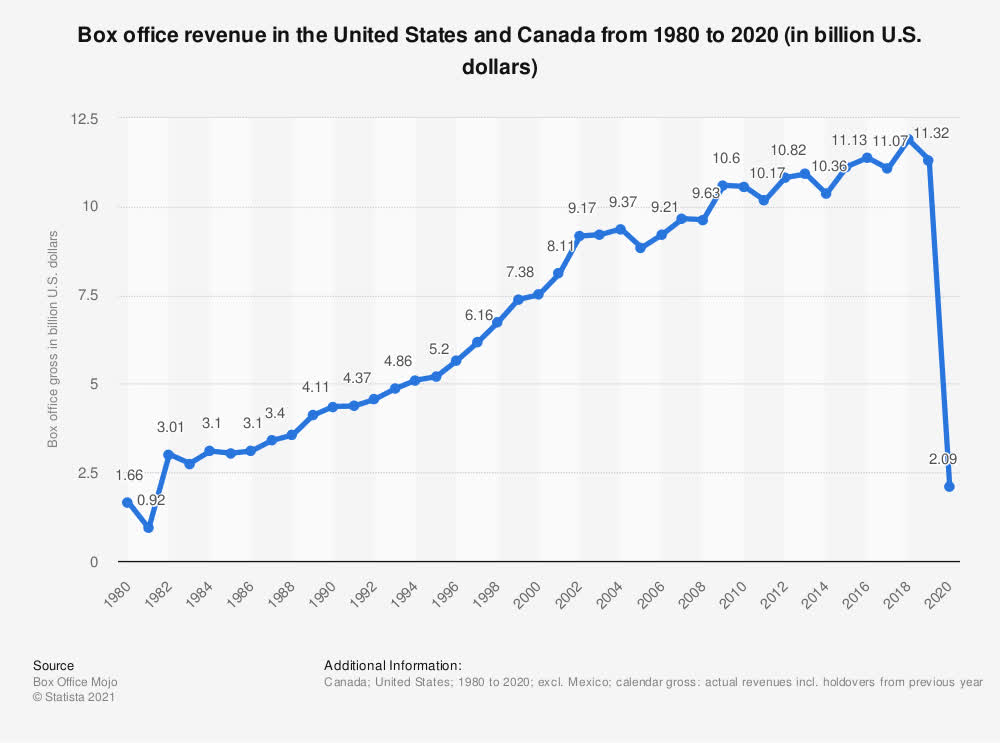 Graphic from Statista
The overall pace of revenue growth at the box office is slow, thus a recovery will likely be extremely prolonged even as restrictions ease. Streaming has played a larger role in the split between box office and at-home watching, with content on a platform like Disney+ having shorter exclusivity windows in theaters, at 45 days instead of 90. Even though AMC could be finding some higher market share domestically against competition like Cinemark (CNK) and Cineworld (OTCPK:CNNWF), the three don't yet have an answer to competition from streaming, with Disney+ and HBO Max among the main threats, with Warner Bros. debuting all new titles for 2021 in theaters and on HBO Max the same day.
Financially, AMC continues to be burdened down by a high debt load, and faces a high annualized interest expense alongside other factors that could impact its ability to operate on a long-term horizon and raise the probability for further dilution or even Chapter 11 bankruptcy as the 2025 notes near maturity.
AMC continues to dilute to raise capital, with the most recent 43 million share offering raising $428 million, boosting near-term liquidity far past $1 billion with implied cash on hand around $1.2 billion. AMC also brought in over $600 million through the Odeon term loan as well as the toggle notes due in 2026. While this is an improvement to the balance sheet in terms of liquidity, high interest expenses, a wide shareholder deficit, and cash outflow for continuing operations increase probability of more dilution and raise red flags down the road.
Even with the paydown in corporate borrowings, bringing the total down to $5.44 billion from nearly $5.7 billion in December, interest expense on these borrowings has doubled as AMC was forced to borrow at higher rates due to its fragile balance sheet. Interest expense for corporate borrowings during Q1 more than doubled from $71.3 million to $151.5 million, with $70 million in non-cash and $52.7 million in PIK interest expense.
This puts AMC at an annualized rate of $600 million in interest expenses, which would leave it in a precarious position if that is the case - even if AMC can return to full strength by year-end 2022/2023, it has not shown an ability to generate that much cash from operations, reaching just $579 million in 2019. This could make it difficult to keep paying down and reducing the debt load while balancing higher interest payments each quarter. With a cash outflow north of $300 million for the quarter, a significant cash raise is likely to be needed before the end of the year. Consecutive losses of this degree through the year (likely for the remaining quarters this fiscal year) will cause a large dent to liquidity.
AMC has just about 30 million shares authorized but not yet issued, so it still can some cash through at the market offerings. If a short squeeze drives the price higher, then it is much more likely that AMC will look to hold another offering to add more cash and secure a higher price per share. However, once those shares are issued, AMC's need for cash will likely be satiated through debt/notes, of which it will have to face double-digit interest rates on. Management did look to increase authorized share count by 500 million to 1.024 billion, but withdrew the proposal at the annual shareholder meeting.
AMC's debt swap last summer to reduce debt and stave off bankruptcy saw the company take on a 10/12% PIK due in 2026, and the two capital raises in Q1 are at similar and higher interest rates. The Odeon term loan due in 2023 has a 10.75% rate the first year and 11.25% until maturity, while the PIK is at a 15%/17% cash/PIK rate, with the interest being solely in cash from July 2022 through maturity. Any future notes or loans are likely to be at high rates like these, so interest expense could remain elevated for multiple quarters or years until these notes start to mature. This could increase the probability of bankruptcy down the line, in 2023 or later, if AMC cannot find the cash to repay some of these non-convertible notes after years of high interest payments.
The Bottom Line
At the end of the day, not every investor is buying shares for the sole purpose of the short squeeze, and it's important to keep in mind that a short squeeze does not improve the fundamentals of the company (aside from cash raise potential) or the stagnation of the theater industry. While the squeeze does offer a substantial degree of returns, it could happen quickly or erode into a mania-like state and be prone to flash crashes, much like GameStop.
AMC isn't the only player in the industry with a high short interest, with peer Cinemark seeing its short interest above 20%, signalling that the reason behind the shorts, i.e. more dilution driving shares lower, failure to raise capital to operate, and higher probabilities of bankruptcy, could be quite valid. However, Cinemark isn't in quite as bad a situation as AMC is financially - while it does have nearly 5x debt/cash, it does not have a shareholder deficit, nor rising interest expenses to the same degree, and 180 million more shares available to issue (~150% of total outstanding).
However, the struggles across the industry during the recovery and in the face of competition from streaming do not look promising. AMC is running out of shares to issue to raise cash, and faces double-digit interest rates if it turns to notes; while it does have over $1 billion in current liquidity, that could evaporate quickly with the current cash outflow and interest expense rate. The rebound in attendance and revenues is likely to take years, while the overall industry saw declining ticket sales and bumpy box office revenues for over a decade as streaming service competition heats up. While a short squeeze has nothing to do with and no impact on the fundamentals, AMC's financial situation looks to set it up for more issues down the road, possibly including bankruptcy in a few years.